NBEA Member Discount
As an NBEA member, you receive a 15% discount on short courses offered on The Horse Portal. Members will also earn certificates of completion from Equine Guelph – the horse owner's Centre at the University of Guelph.
In addition, Equestrian Canada certified instructors/coaches may apply these certificates towards their professional development credits.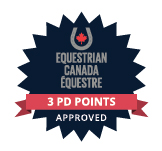 Each day, new scientific knowledge emerges on how to better care for horses. It is everyone's responsibility to stay current on best health and welfare practices and industry standards.
Whether you work with performance horses or have a backyard pony, these short, flexible courses are for you! So, on behalf of our horses, we invite you to join our online community.